Unique to you
Simple design modifications to completely bespoke pieces, we can help find the perfect fit for your wedding rings.
Contact Us
Bespoke Wedding Ring Service
One size doesn't fit all. Different tastes, different styles and different shapes. Our bespoke service offers the opportunity to create a ring or jewellery piece exclusively for you. Our bespoke service includes wedding bands shaped to precisely fit your engagement ring, as well as your finger. We can visit your home in Manchester and surrounding areas in the North West of England for you to discuss your options and even try on some samples in the comfort of your own home at a time that suits you.
Initial Consultation
For wedding bands shaped to your engagement ring, we will agree the style and profile, along with giving you a guide price. Then, temporarily take custody of your engagement ring upon a £250 desposit (fully refundable if you choose not to proceed) to complete a 360º scan for precision fitting. Conceptual jewellery designs will be sketched at a consultation.
Book Appointment
Visualisation
We use 'CAD modelling' techniques to generate a life-like image of your ring or jewellery design for you to see before we agree to proceed with jewellery making. Wax or silver models are then made to validate the design before production with your chosen precious metal. Your engagement ring is returned via insured delivery at this time, usually 10 days after your initial consultation.
Production & Delivery
We work with suppliers renowned for the highest quality to produce your jewellery to your agreed specification. If sizing adjustment is needed once you try the finished piece, then we take care of that on a complimentary basis.
A 3 year guarantee is provided to cover any manufacturing faults.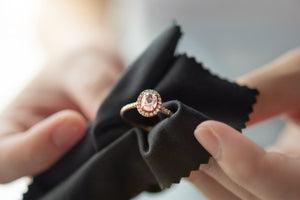 Aftercare & Service
When ordering your wedding rings with us, we provide complimentary cleaning of your engagement rings. We also offer cleanng, repair, valuation, and insurance services for any jewellery.
Find out more
Your Jewellery Partner for Life
We meet most of our clients when they are getting engaged or planning their wedding. We are then lucky to enjoy helping with eternity rings, anniversay gifts, and any other jewellery wishes over the years.
Browse Products
Book an appointment to discuss your bespoke wedding ring design.