Wedding Rings at Oscar & Olivia Jewellery
At our at-home visits, we love sharing the expertise outlined in these guides to help you select the perfect wedding band. We pride ourselves on providing a completely personalised service, so your experience is tailored just for you. We'll guide you through our unique selection of rings and show examples of our bespoke shaped wedding bands. We'll explain everything in detail and highlight anything that catches your eye.
Wedding Ring Settings & Styles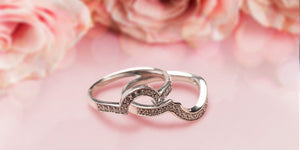 Shaped Wedding Bands
When it comes to finding the perfect wedding ring to complement your engagement ring, a bespoke shaped wedding ring ensures a flawless match. Uniquely designed to fit comfortably with all engagement ring styles, these rings are crafted with care to create a seamless and beautiful pairing. Classic shapes, such as wishbone and cut-out designs, are practical yet elegant, making them a popular choice for those who want a ring that is both stylish and comfortable.
bespoke
Band Width
The band width of a wedding ring ranges from slim and delicate styles to designs that are more thick and substantial. Oscar and Olivia offer band widths from 1.5mm to 8mm. This range of options allows you to find a wedding band that complements your personal style and finger size, as well as pairing nicely with your engagement ring. The width of your wedding ring can impact its overall look and feel, including your profile choice, so it is important to think about your personal preferences, comfort level, and price range when making your decision.
Ring Sizing
When it comes to choosing the perfect wedding band, finding the right size is crucial for both comfort and style. On the UK ring size chart, wedding band sizes range from A-Z, with A being the smallest and Z being the largest. Don't worry if you're not sure about your size though! Our free, downloadable ring size guide is here to help. We recommend having your ring finger professionally measured for the most accurate result. So, let's find the perfect fit for you!
FIND MY SIZE
The Precious Metals
Selecting the right precious metal for your wedding band is an important decision that can have a lasting impact on your ring's durability, colour, overall style, and price. We understand that this decision can be overwhelming, which is why our guide to precious metals is here to provide you with the guidance you need to make an informed choice. Our goal is to help you find the perfect precious metal that not only suits your style but also symbolises the love and commitment you share with your partner. With our help, you can choose a metal that will stand the test of time and be a cherished symbol of your love for years to come.
The precious metals used in jewellery and wedding rings are a symbol of the love and commitment shared between two people. Among the most popular options are yellow gold, white gold, rose gold, silver, and palladium. Each of these precious metals is rare and has its own unique qualities that make for a beautiful wedding ring.
Precious metal guide
Wedding Ring Profiles
Choosing the perfect wedding ring profile is a significant decision that will impact the comfort and style of your ring. It's not just about the shape, colour, size, and overall aesthetic; it's also about finding a ring that reflects your personal style and complements your engagement ring. We know that this decision is entirely personal, and we're here to help you make an informed choice that you will cherish for a lifetime.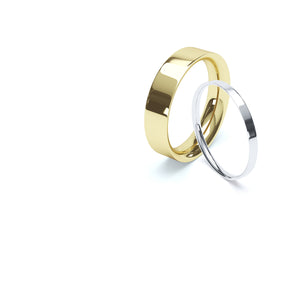 Modern Court 
The modern court profile is a popular choice for both men and women, featuring a flat-sided design that delivers a clean, crisp and contemporary look. This practical shape complements engagement rings beautifully, making it a perfect choice for those seeking a modern aesthetic.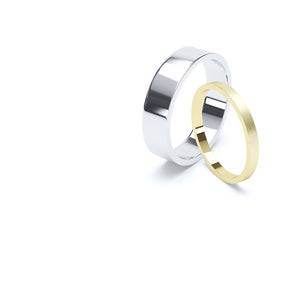 Flat Court 
The flat court wedding band is the perfect choice for those who want a modern-looking ring with a comfortable interior surface. The unique design features a flat top and side, giving it a thicker and more contemporary look, while still maintaining a classically timeless feel.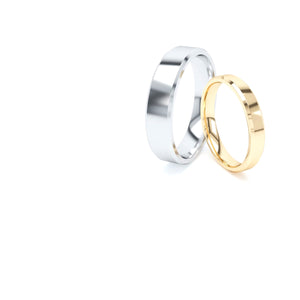 Bevelled
Our bevelled edge wedding rings have a traditional yet sleek angled surface that exudes understated elegance. These rings are perfect for those with active lifestyles, as their edges are less susceptible to damage, ensuring that your ring will continue to look as good as new for years to come.
Traditional Court
The traditional court wedding band has a slightly rounded outside and inside, providing a comfortable fit for everyday wear. This classic design exudes timeless elegance and luxury, making it the perfect choice for those who want to combine tradition with style.
Personalisation and Finishing Touches
What are the origins of wedding rings?
Wedding rings have a rich and interesting history, with their origin dating all the way back to around 5000 years ago in ancient Egypt. During this time period, people would often exchange 'rings of love' that were made from woven reeds and hemp. The Egyptians saw this marriage ring as a powerful symbol of eternal love, much like we do today, and also wore it on the fourth finger of their left hand, as they believed that there was a 'vein of love' that ran from this finger to the heart. Learn more about the history of wedding rings here.
Which finger should I wear my wedding ring on?
The ring finger, which is the fourth finger of the left hand, has remained as one of the most popular and traditional places to wear a wedding band in the UK. However, there are many modern, alternative, and trendy ways to wear a wedding ring such as on different fingers, on a chain around the neck, and even mixed, matched and stacked alongside existing rings, including engagement and eternity rings. It is a completely personal decision as to where you and your partner decide to wear your wedding ring, but the ring finger is the most common place!
Do couples' wedding rings need to match?
This is a decision that is completely personal to you and your partner, but it is not necessary for your wedding rings to be identical. Whether a couple decides to express their own unique style through different wedding ring types, or opt for the same style band, or just have a matching feature such as an engraving, they are all designed to represent the special bond between two people. 
Should my wedding ring be the same precious metal as my engagement ring?
Whether you decide to match the metals of your engagement and wedding rings comes down to personal preference. You may decide to keep the same precious metal choice to create an elegant, subtle feel, or mix and match different colours for a more unique and contemporary look. Book a one-to-one appointment with Oscar & Olivia today, and we will help you to find the perfect wedding ring that perfectly suits your engagement ring.
What is a diamond eternity ring?
An eternity ring is a diamond circulated band that is a customary first anniversary gift between a married couple as a celebration of the time that they have spent together as newlyweds. Another common occasion in which an eternity ring is gifted is to commemorate the birth of a couple's first child. This would be the perfect opportunity for the inscription of a name, date, or motif on the inside of the band to commemorate these special occasions, which you can discover more about by reading our wedding ring engraving guide. 
Whatever the occasion, a diamond eternity ring would be the perfect addition to your wedding and engagement ring stack. Browse our beautiful selection of ladies diamond wedding rings at Oscar & Olivia Jewellery. 
Can the diamonds in my wedding ring be lab grown?
Lab grown diamonds, also known as man-made or synthetic diamonds, are gemstones that are grown within a highly controlled, laboratory environment using cutting-edge technology. There are many benefits to choosing to go lab grown, such as cost effectiveness, sustainability improvements, and ethical reasoning, which you can learn more about here.
Here at Oscar & Olivia Jewellery, we have a great selection of diamond wedding rings and eternity rings for you to choose from. Browse our range online, and book your one-to-one appointment today. Although our prices displayed online refer to natural diamonds, you can get in touch about your lab grown diamond options by contacting us. We look forward to hearing from you!
How often should I have my wedding rings cleaned?
We recommend coming in to have your wedding ring professionally cleaned and polished every 6-12 months. This ensures that your band will maintain optimum shine and stay in great condition. You can learn more about the cleaning and polishing services offered at Oscar & Olivia here.