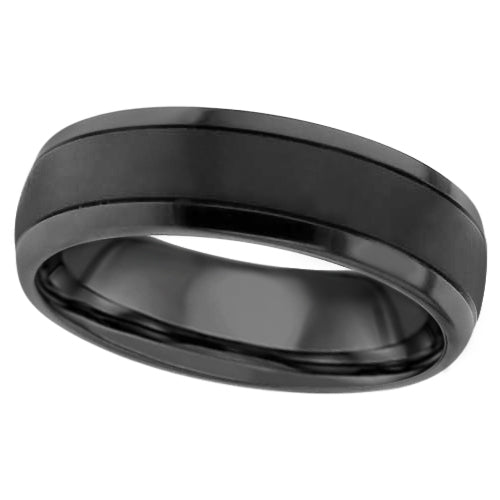 Gents Zirconium domed wedding ring polished
This 6mm black Zirconium ring has a domed profile with a matt sheen in the center and polished edges giving it a classic wedding look.
Ring Sizing
As our rings are custom made our team will be in touch upon receipt of your order to validate your finger size. If there is any doubt we will send ring sizers to confirm accuracy and ensure the perfect fit.
Diamond Ring Information
The width of wedding bands set with diamonds will alter based upon the diamond carat weight ordered. As the size of the diamonds increases, the band width is scaled to fit.
Images are based on an average diamond carat weighted ring, if you would like to confirm what the specific carat weight actually looks like please enquire through our contact form.
Most of our diamond wedding band range is also available fully versus half set priced. Please get in touch for more details.
Engraving
Our engraving is in script font 'Petit Formal'
Delivery
All our rings are custom made to order and will be ready 4 - 6 weeks from order confirmation.
Jewellery is sent by Royal Mail Special Delivery. This service is fully insured with receipt assured by 1pm the following day. A tracking reference and link is always provided.
Returns Policy
All rings are custom made to order and can only be returned / refunded in the event of fault or damage in delivery. For full information please refer to our FAQs.
Enquire About This Product